The new 9,500-square-foot unit leverages technology and innovative design
White Plains Hospital announced today that it has opened a new state-of-the-art intensive care unit (ICU). This updated space expands ICU capacity at the Hospital and will allow the most medically vulnerable patients to receive the life-saving care they need in a more advanced setting. As White Plains Hospital continues to add more advanced services, including the recent addition of cardiac surgery and the forthcoming addition of neurointerventional surgery, the expansion of critical care has been essential to support the growing number of patients with complex needs.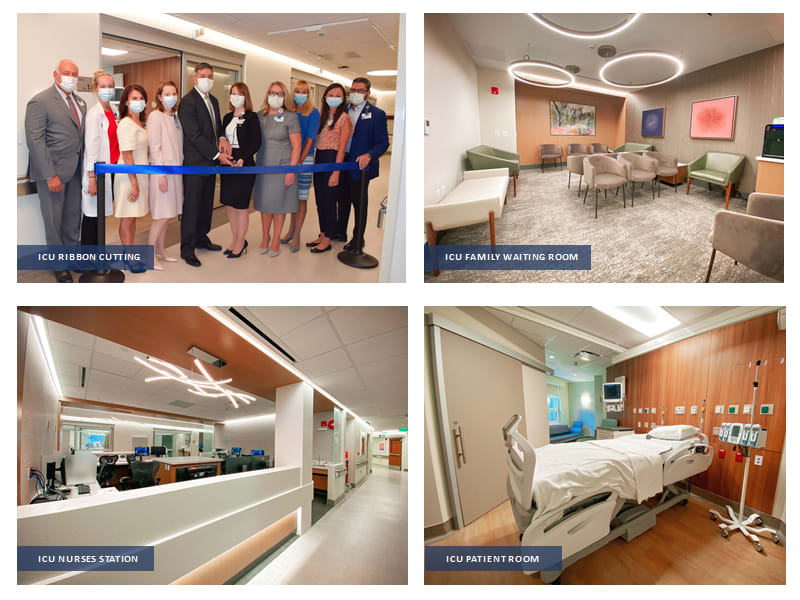 The 12-bed redesigned unit facilitates high-quality patient care across all touchpoints. Each room is equipped with negative pressure for infection control, in-room lifts for improved physical therapy capabilities, a private bathroom and other amenities.Advanced beds feature pressure equilibration, pulmonary and general physiotherapy capabilities to improve recovery and reduce the potential for wounds. Adjacent workstations allow close patient observation when required. The unit also features four larger universal care rooms, which allow patients recovering from cardiac surgery to progress through phases of care while remaining in the same room.

"Each element of this redesign was carefully considered with improved patient outcomes in mind," says Dr. John Cardasis, Director of Critical Care at White Plains Hospital. "Expanding our ICU capacity at this time will also support our newest complex care offerings, including cardiac care and neurosurgery." White Plains Hospital's critical care team cares for more than 2,000 patients each year.
"We are very excited to open this new intensive care unit. We continue to transform our Hospital to ensure our patients have access to the most comprehensive care in the Hudson Valley, and this is the latest example of our ongoing commitment to provide state-of-the-art care to our community," said Dr. Michael Palumbo, Executive Vice President and Chief Medical Officer at White Plains Hospital.

The new ICU is a continuation of the Hospital's rapid growth over the past several years. Last year, White Plains Hospital opened a 252,000-square-foot, nine-story outpatient facility, the Center for Advanced Medicine & Surgery, connecting to both the main Hospital and the Center for Cancer Care. In addition, the Hospital launched a new cardiac surgery program in partnership with Montefiore and constructed a dedicated Cardiac Operating Room to support these advanced procedures.
White Plains Hospital's commitment to exceptional patient care was recently recognized with a five-star quality rating from the Centers for Medicare and Medicaid Services (CMS) — the highest distinction offered by the federal agency awarded to just eight hospitals in New York state. White Plains Hospital was the only Hospital in Westchester recognized with this designation. To learn more about White Plains Hospital and its award-winning services, visit wphospital.org.
About White Plains Hospital
White Plains Hospital is a proud member of the Montefiore Health System, serving as its tertiary hub of advanced care in the Hudson Valley. The Hospital is a 292-bed not-for-profit health care organization with the primary mission of providing exceptional acute and preventive medical care to all people who live in, work in or visit Westchester County and its surrounding areas. Centers of Excellence include the Center for Cancer Care and The William & Sylvia Silberstein Neonatal & Maternity Center. The Hospital's Flanzer Emergency Department is the busiest in Westchester County. White Plains Hospital performs lifesaving emergency and elective angioplasty in its Joan and Alan Herfort, MD, Cardiac Catheterization Laboratory and Marie Promuto Cardiac Catheterization Laboratory and in 2021, the Hospital formally launched its cardiac surgery program with its first-ever open-heart surgery in partnership with world-class cardiac surgeons from Montefiore Einstein. White Plains Hospital has outpatient medical facilities across Westchester, including multispecialty practices in Armonk, New Rochelle, Somers and Yorktown Heights; and Scarsdale Medical Group locations in Harrison and Scarsdale.
The Hospital is fully accredited by the Joint Commission and earned its recognition as a Top Performer for Key Quality Measures® in 2019. In 2022, White Plains Hospital received a 5-star rating from the Centers for Medicare and Medicaid Services (CMS) — the highest distinction offered by that federal agency. In addition, the Hospital received Magnet® designation three times, most recently in 2021 from the American Nurses Credentialing Center (ANCC) and has been rated 5 Stars from CMS for Quality. The Hospital recently received the American Heart Association's Mission: Lifeline® Gold Achievement Award for its treatment of patients who suffer severe heart attacks in its Emergency Department and Cardiac Catherization labs and its mortality rate is amongst the lowest in the country according to the National Cardiovascular Data Registry (NCDR). The Hospital has been reaccredited by the American College of Surgeons Commission on Cancer for providing high-quality, patient-centered cancer care to their patients and the community. It has earned a three-year accreditation from the National Accreditation Program for Rectal Cancer (NAPRC), one of 60 hospitals in the nation, and the Hospital's Bariatric Surgical Center is accredited as a Comprehensive Center under the Metabolic and Bariatric Surgery Accreditation and Quality Improvement Program (MBSAQIP). White Plains Hospital has received full accreditation for its breast cancer program four times from the National Accreditation Program for Breast Centers (NAPBC) and The American College of Surgeons National Surgical Quality Improvement Program (ACS NSQIP®) recognized White Plains Hospital as a top 10% performing hospital for achieving meritorious outcomes for surgical patient care in 2019. In 2022, White Plains Hospital received the Outstanding Patient Experience Award from Healthgrades® for the 7th time, and in 2022 became the only Hospital in Westchester to be awarded with an A Safety Grade from the Leapfrog Group for the 7th time.
https://www.wphospital.org/about/affiliations-accreditations-awards