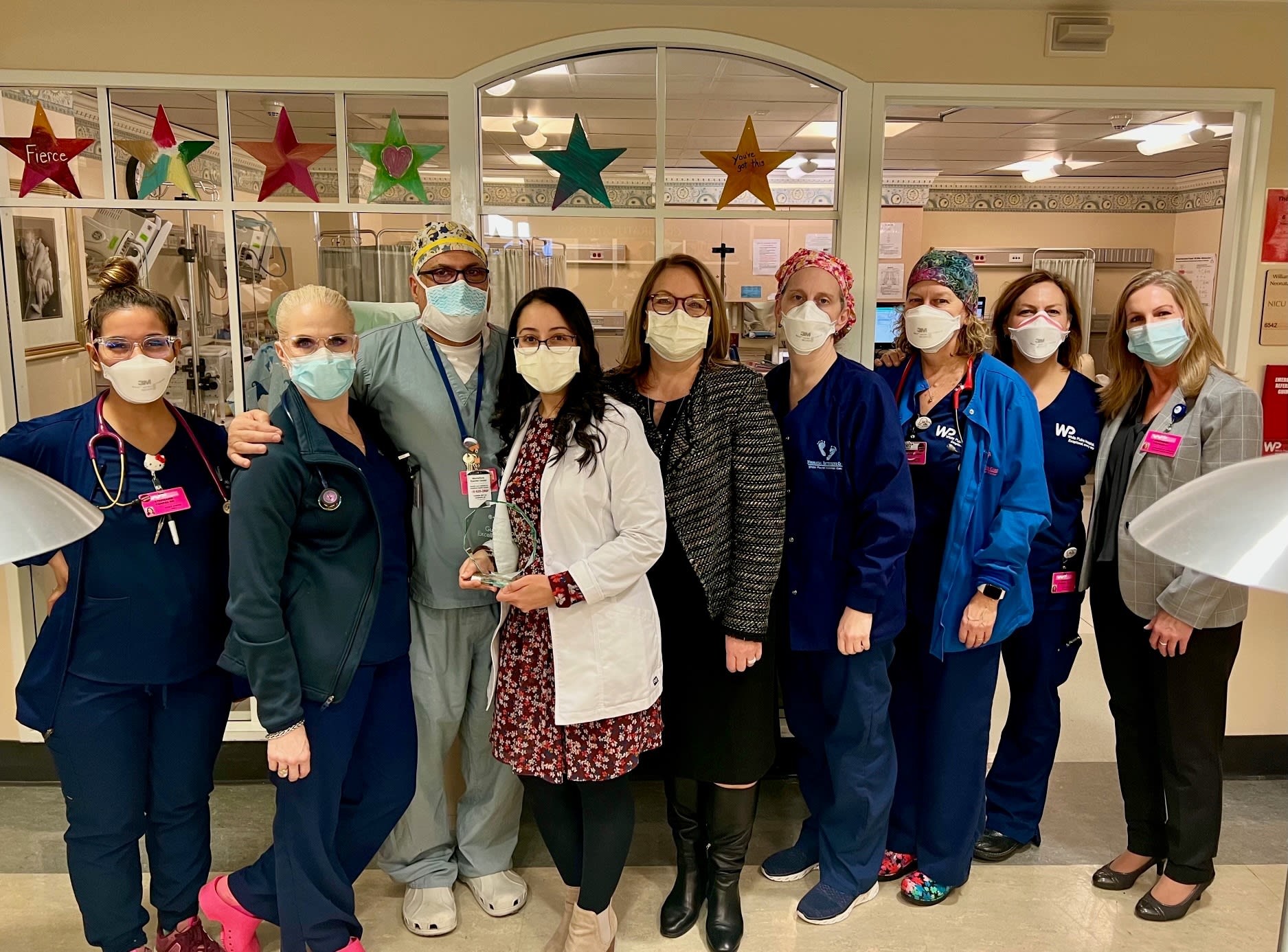 White Plains, N.Y. (January 13, 2022) – White Plains Hospital announced today that its Neonatal Intensive Care Unit (NICU) has been awarded the Press Ganey Guardian of Excellence AwardSM for the third consecutive year. This national award recognizes top-performing healthcare organizations that have achieved the 95th percentile or above for performance in patient experience in the NICU.
White Plains Hospital features a Level III Neonatal Intensive Care Unit, one of the most advanced and sophisticated in the Hudson Valley region, that provides superior, state-of-the-art care for premature babies and those born with other vulnerabilities.
"Our amazing NICU team is committed to providing high quality to our smallest, most vulnerable patients and their families. Having a baby in the NICU can be a scary experience, and we want to assure new parents that they can expect the most compassionate and comprehensive care from the area's top neonatal experts," said Leigh Anne McMahon, Executive Vice President, Patient Care Services and Chief Nursing Officer at White Plains Hospital.
Receipt of the 2021 Guardian of Excellence AwardSM follows White Plains Hospital's recent Magnet® designation from the American Nurses Credentialing Center (ANCC). White Plains Hospital is one of just 2% of hospitals in the nation to receive this designation three times.
About White Plains Hospital
White Plains Hospital is a proud member of the Montefiore Health System, serving as its tertiary hub of advanced care in the Hudson Valley. The Hospital is a 292-bed not-for-profit health care organization with the primary mission of providing exceptional acute and preventive medical care to all people who live in, work in or visit Westchester County and its surrounding areas. Centers of Excellence include the Center for Cancer Care, The William & Sylvia Silberstein Neonatal & Maternity Center and The Ruth and Jerome A. Siegel Stroke Center. The Hospital's Flanzer Emergency Department is the busiest in Westchester County, with more than 64,000 patient visits a year. White Plains Hospital performs lifesaving emergency and elective angioplasty in its Joan and Alan Herfort, MD, Cardiac Catheterization Laboratory and Marie Promuto Cardiac Catheterization Laboratory. White Plains Hospital has outpatient medical facilities across Westchester, including multispecialty practices in Armonk, New Rochelle, Somers and Yorktown Heights; and Scarsdale Medical Group locations in Harrison and Scarsdale.
The Hospital is fully accredited by the Joint Commission and earned its recognition as a Top Performer for Key Quality Measures® in 2015 and 2013. The Hospital received Magnet® designation in 2012, 2016 and 2021 from the American Nurses Credentialing Center (ANCC). The Hospital earned a three-year accreditation from the National Accreditation Program for Rectal Cancer (NAPRC), one of 16 hospitals in the nation, and the Hospital's Bariatric Surgical Center is accredited as a Comprehensive Center under the Metabolic and Bariatric Surgery Accreditation and Quality Improvement Program (MBSAQIP). White Plains Hospital has also received full accreditation for its breast cancer program from the National Accreditation Program for Breast Centers (NAPBC) and The American College of Surgeons National Surgical Quality Improvement Program (ACS NSQIP®) recognized White Plains Hospital as a top 10% performing hospital for achieving meritorious outcomes for surgical patient care in 2019. In 2021, White Plains Hospital received the Outstanding Patient Experience Award from Healthgrades® for the sixth time and was the only Hospital in Westchester to be awarded with an "A" Safety Grade from the Leapfrog Group for the 6th consecutive time.
https://www.wphospital.org/about/affiliations-accreditations-awards