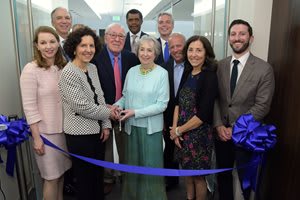 Congresswoman Nita Lowey (D-NY) joined White Plains Mayor Tom Roach and Hospital President and CEO Susan Fox, among other community and hospital leaders, donors and patients for a ribbon cutting ceremony announcing the Paul and Harriet Weissman Department of Radiology Oncology and an impressive new space that includes a sophisticated radiosurgery suite, named for the Clarvit Family, featuring the latest treatment technology.

The Edge is particularly effective for treating small tumors, including brain tumors, but can also treat localized tumors almost anywhere in the body. Treatments are delivered painlessly in a compressed period of time, often in as few as five minutes. The precision and efficiency of the new technology helps patients with cancer achieve better outcomes and an enhanced quality of life through fewer treatments and minimal impact on surrounding healthy cells.

The Edge system is complemented by the latest Varian TrueBeam®, a linear accelerator that uses enhanced imaging technology to provide targeted and powerful radiotherapy with remarkable speed, pinpoint accuracy, and precision.

The use of stereotactic radiosurgery and radiotherapy with tools like the Edge and TrueBeam can be used to treat cancer in any area of the body where radiation therapy is indicated, including the brain, spine, pancreas, liver, and lungs.

"We're providing the same or better level of care than patients would receive in New York City, with added comfort and more convenience," said Randy Stevens, MD, Director of the Department of Radiation Oncology. Dr. Stevens continued, "We want to be able to make treatments fit into our patients' lives, not vice versa."
In keeping with its mission to promote an optimal patient experience and healing environment, the sleek, serene design of the new space complements the Hospital's ongoing campus modernization, including the rest of the Center for Cancer Care, renovated and expanded in 2016, and the Hospital's new lobby and six-story patient tower, completed in 2015.