Hospital is supporting both current employees and external candidates to obtain skills and certification
White Plains, N.Y. (November 10, 2022) – White Plains Hospital has partnered with Mercy College to launch a new certification program to address critical talent gaps in the healthcare industry. According to the Bureau of Labor Statistics, in August there were 1.6 million job openings in healthcare. The goal of this new partnership is to train both current and future employees for specialized jobs needed at White Plains Hospital. The Hospital has a long history of training employees for advancement in their careers. This program expands on this success and opens up additional opportunities for current staff as well as new employees who would enter directly into a training program.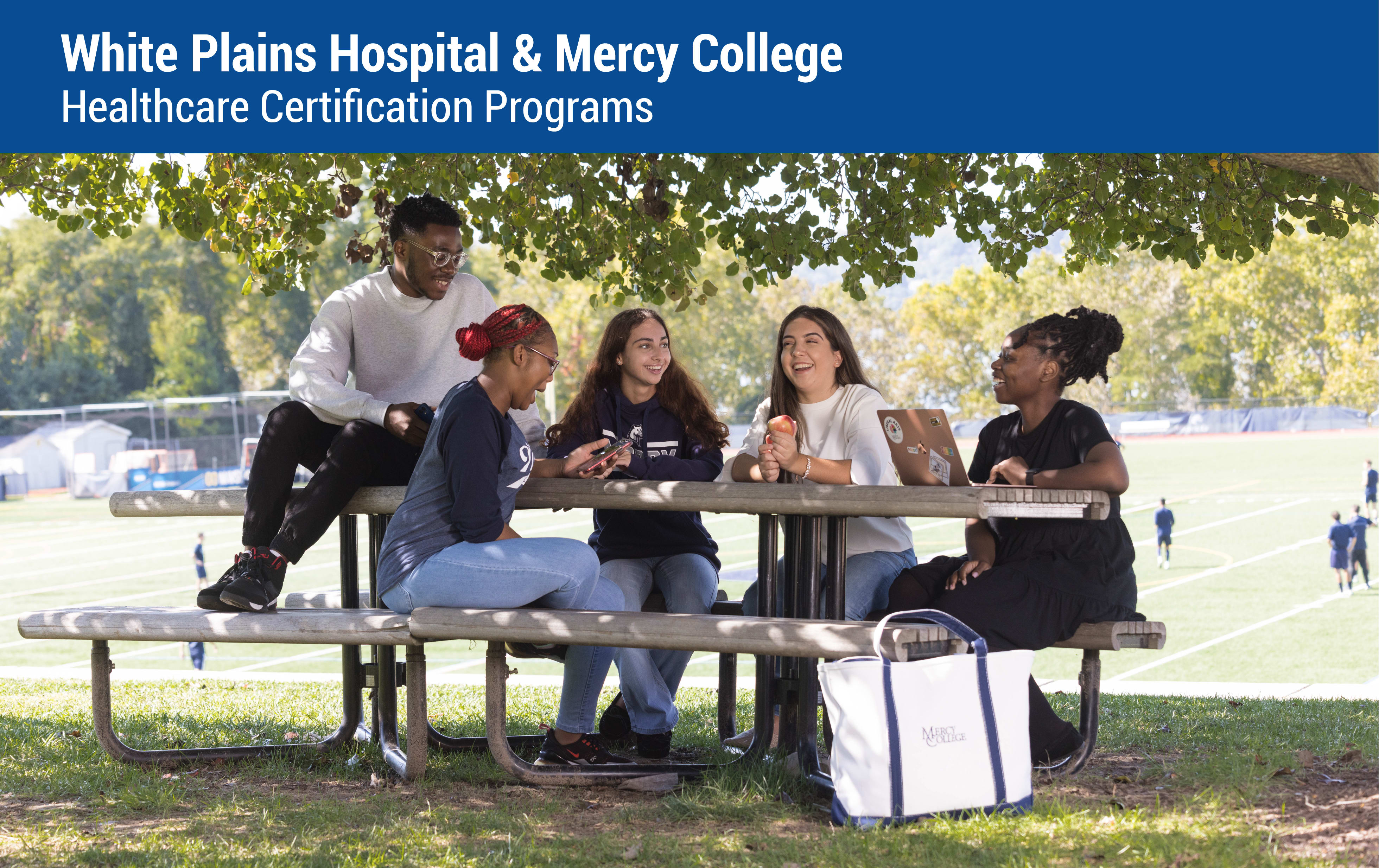 The partnership consists of two certification programs, one in Revenue Cycle Administration and the other in Clinical Medical Assisting. The 6-week program will consist of one evening class taken each week virtually, and another on Saturdays that will be conducted in-person. The classes will begin on January 7, 2023.
Candidates for certification in Revenue Cycle Administration, which plays a pivotal role in the financial operation of a healthcare facility, will gain a critical understanding of the financial process used to manage claims processing and payment.
Candidates for certification in Clinical Medical Assisting, which blends office administration and clinical responsibilities such as processing patient histories and recording vital signs, learn everything from anatomy and physiology to pharmacology and nutrition, as well as best practices for interacting with patients and other medical staff.
To be considered, interested individuals must complete an application online for one of these three positions:
Candidates will be required to interview with the Hospital's HR department, and department Manager before being selected to participate.
"This program offers a unique opportunity for individuals who are interested in jumpstarting their careers in healthcare and for those who are looking to learn a new skill and advance their career at White Plains Hospital," said Diane Woolley, Senior Vice President and Chief Human Resources Officer at White Plains Hospital.
"The shortage of qualified healthcare professionals in New York, in both clinical and administrative settings, is expected to grow," said Susan Fox, President and CEO of White Plains Hospital. "We are pleased to partner with Mercy College on this innovative new program, which helps unlock the potential of new healthcare talent."
"Mercy College's Division of Workforce Credentialing and Community Impact is pleased to provide a new early career healthcare training program in Medical Assistantship and Revenue Cycle Administration for White Plains Hospital staff and others in our region. The Division's goal is to address skills shortfalls within the regional labor force and to help prepare community members for gainful employment and career advancement through innovative training programs such as this," said Mercy College President Tim Hall.
Each of the two tracks will consist of 9 hours of class time per week:1 weekday evening via Zoom and Saturdays in-person at Mercy College, 555 Broadway Dobbs Ferry, NY 10522. Mercy will make computer labs available for participants as needed.
To learn more and/or to apply, email WPHHR@wphospital.org with the subject line "Mercy College Certificate Program Candidate."
About the Mercy College Division of Workforce Credentialing and Community Impact
Mercy College's Division of Workforce Credentialing and Community Impact (DWCCI) is designed to enhance and further individual's careers, filling skills gaps in today's labor market and preparing them for the unknown jobs of tomorrow. To learn more about DWCCI, please click here.
About White Plains Hospital
White Plains Hospital is a proud member of the Montefiore Health System, serving as its tertiary hub of advanced care in the Hudson Valley. The Hospital is a 292-bed not-for-profit health care organization with the primary mission of providing exceptional acute and preventive medical care to all people who live in, work in or visit Westchester County and its surrounding areas. Centers of Excellence include the Center for Cancer Care and The William & Sylvia Silberstein Neonatal & Maternity Center. The Hospital's Flanzer Emergency Department is the busiest in Westchester County. White Plains Hospital performs lifesaving emergency and elective angioplasty in its Joan and Alan Herfort, MD, Cardiac Catheterization Laboratory and Marie Promuto Cardiac Catheterization Laboratory and in 2021, the Hospital formally launched its cardiac surgery program with its first-ever open-heart surgery in partnership with world-class cardiac surgeons from Montefiore Einstein. White Plains Hospital has outpatient medical facilities across Westchester, including multispecialty practices in Armonk, New Rochelle, Somers and Yorktown Heights; and Scarsdale Medical Group locations in Harrison and Scarsdale.
The Hospital is fully accredited by the Joint Commission and earned its recognition as a Top Performer for Key Quality Measures® in 2019. In 2022, White Plains Hospital received a 5-star rating from the Centers for Medicare and Medicaid Services (CMS) — the highest distinction offered by that federal agency. In addition, the Hospital received Magnet® designation three times, most recently in 2021 from the American Nurses Credentialing Center (ANCC). The Hospital recently received the American Heart Association's Mission: Lifeline® Gold Achievement Award for its treatment of patients who suffer severe heart attacks in its Emergency Department and Cardiac Catherization labs and its mortality rate is amongst the lowest in the country according to the National Cardiovascular Data Registry (NCDR). The Hospital has been reaccredited by the American College of Surgeons Commission on Cancer, and by the for providing high-quality, patient-centered cancer care to their patients and the community. It has earned a three-year accreditation from the National Accreditation Program for Rectal Cancer (NAPRC), one of 60 hospitals in the nation, and the Hospital's Bariatric Surgical Center was reaccredited as a Comprehensive Center under the Metabolic and Bariatric Surgery Accreditation and Quality Improvement Program (MBSAQIP) in 2022. White Plains Hospital has received full accreditation for its breast cancer program four times from the National Accreditation Program for Breast Centers (NAPBC) and The American College of Surgeons National Surgical Quality Improvement Program (ACS NSQIP®) granted White Plains Hospital with two meritorious outcomes for surgical patient care in 2022. Also in 2022, the Hospital received the Outstanding Patient Experience Award from Healthgrades® for the 7th time, and in 2022 became the only Hospital in Westchester to be awarded with an A Safety Grade from the Leapfrog Group for the 7th time.
https://www.wphospital.org/about/affiliations-accreditations-awards