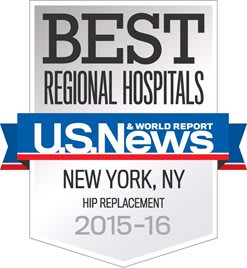 White Plains, NY (October 13, 2015) - White Plains Hospital has been named among the region's best in hip replacement according to U.S. News & World Report. This recognition comes as part of the new 2015 Best Hospitals for Common Care ratings which evaluated more than 4,500 hospitals nationwide on common inpatient procedures and conditions.
"This is truly a reflection of the dedication we put into our orthopedic program, particularly hip replacement," says Jonathan Holder, MD, Chief of Orthopedics at White Plains Hospital. "We have orthopedic surgeons who are extensively trained and offer comprehensive care, along with nursing staff specially certified in orthopedic care." White Plains Hospital performs more hip replacement procedures using minimally-invasive techniques than any other hospital in Westchester County.
U.S. News evaluated hospitals in five procedures and medical conditions – heart bypass surgery, hip replacement, knee replacement, heart failure and chronic obstructive pulmonary disease (COPD) – and rated them high performers, average or below average. Only about 10 percent of the hospitals were rated as high performers.
"The choice of hospital is one of the most important and costly decisions an individual makes," said Ben Harder, chief of health analysis for U.S. News. "We evaluated the treatment of more than 3.6 million patients and identified a small percentage of hospitals that have superior outcomes compared with their peer institutions. Whenever possible, patients, in consultation with their doctors, should seek out high performing hospitals that excel in treating their specific condition."
U.S. News created Best Hospitals for Common Care to help patients find better care for the kinds of common procedures and medical conditions that account for millions of hospitalizations each year. Objective outcome measures such as deaths, infections, readmissions, and operations that need to be repeated as well as patient satisfaction data largely determined the ratings. The Best Hospitals for Common Care ratings rely on Centers for Medicare & Medicaid Services data for patients 65 and older, as well as survey data from the American Hospital Association and clinical registry data from the Society of Thoracic Surgeons.
Dr. Foster, an international health care analytics company with expertise on claims-based risk adjustment, collaborated with U.S. News on the Best Hospitals for Common Care ratings methodology.
The ratings are freely available at http://health.usnews.com/best-hospitals.
About White Plains Hospital
White Plains Hospital (WPH) is a 292-bed not-for-profit health care organization with the primary mission of providing exceptional acute and preventive medical care to all people who live in, work in or visit Westchester County and its surrounding areas. Centers of Excellence include the Dickstein Cancer Treatment Center, The William & Sylvia Silberstein Neonatal & Maternity Center and The Ruth and Jerome A. Siegel Stroke Center. The Hospital's Flanzer Emergency Department is the busiest in Westchester County, seeing over 55,000 visits a year. White Plains Hospital performs lifesaving emergency and elective angioplasty in its Joan and Alan Herfort, M.D. Cardiac Catheterization Laboratory. The Hospital is fully accredited by the Joint Commission and earned its recognition as a Top Performer for Key Quality Measures® in 2013. The Hospital is also an eleven-time winner of the Consumer Choice Award, an honor given to the nation's top hospitals by the National Research Corporation, and received Magnet® designation in 2012 from the American Nurses Credentialing Center (ANCC). In 2014 White Plains Hospital received the Outstanding Patient Experience Award from Healthgrades®, given to only 5% of hospitals nationwide. White Plains Hospital is a member of the Montefiore Health System. For additional information, visit http://www.wphospital.org.