White Plains, N.Y. (November 22, 2022) – White Plains Hospital has named healthcare industry veteran Douglas Torre as Chief Information Officer (CIO), where his focus will be on transforming information technology, ensuring cyber security and patient privacy, advancing digital adoption, and streamlining workflow and coordination of care.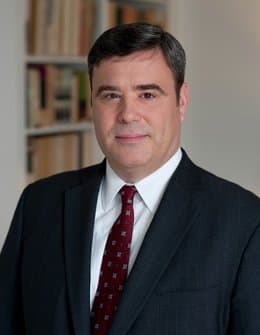 Mr. Torre joins the Hospital from his position as CIO at Cold Spring Harbor Laboratory, where he oversaw the planning, development, implementation, and operation of the institution's IT functions, as well as cybersecurity. Prior to that, he was Director of Information Technology at the Andrew W. Mellon Foundation, following seven years as Chief Technology Officer at Northwell Health. In 2003, Mr. Torre founded Ed Tech of Western New York, a 501(c)(3) non-profit that has supported more than 150 schools, organizations and community centers by improving their access to technology.
"The role of Information Technology in healthcare is critical to effective patient care, helping to reduce errors, protect patient privacy, streamline communication, and improve overall care," said Joseph Guarracino, Executive Vice President, Chief Administrative Officer and Chief Financial Officer at the Hospital. "Doug's breadth of experience makes him an ideal addition to our leadership team and we are thrilled to have him lead our technology initiatives at White Plains Hospital."
About White Plains Hospital
White Plains Hospital is a proud member of the Montefiore Health System, serving as its tertiary hub of advanced care in the Hudson Valley. The Hospital is a 292-bed not-for-profit health care organization with the primary mission of providing exceptional acute and preventive medical care to all people who live in, work in or visit Westchester County and its surrounding areas. Centers of Excellence include the Center for Cancer Care and The William & Sylvia Silberstein Neonatal & Maternity Center. The Hospital's Flanzer Emergency Department is the busiest in Westchester County. White Plains Hospital performs lifesaving emergency and elective angioplasty in its Joan and Alan Herfort, MD, Cardiac Catheterization Laboratory and Marie Promuto Cardiac Catheterization Laboratory and in 2021, the Hospital formally launched its cardiac surgery program with its first-ever open-heart surgery in partnership with world-class cardiac surgeons from Montefiore Einstein. White Plains Hospital has outpatient medical facilities across Westchester, including multispecialty practices in Armonk, New Rochelle, Somers and Yorktown Heights; and Scarsdale Medical Group locations in Harrison and Scarsdale.
The Hospital is fully accredited by the Joint Commission and earned its recognition as a Top Performer for Key Quality Measures® in 2019. In 2022, White Plains Hospital received a 5-star rating from the Centers for Medicare and Medicaid Services (CMS) — the highest distinction offered by that federal agency. In addition, the Hospital received Magnet® designation three times, most recently in 2021 from the American Nurses Credentialing Center (ANCC). The Hospital recently received the American Heart Association's Mission: Lifeline® Gold Achievement Award for its treatment of patients who suffer severe heart attacks in its Emergency Department and Cardiac Catherization labs and its mortality rate is amongst the lowest in the country according to the National Cardiovascular Data Registry (NCDR). The Hospital has been reaccredited by the American College of Surgeons Commission on Cancer, and by the for providing high-quality, patient-centered cancer care to their patients and the community. It has earned a three-year accreditation from the National Accreditation Program for Rectal Cancer (NAPRC), one of 60 hospitals in the nation, and the Hospital's Bariatric Surgical Center was reaccredited as a Comprehensive Center under the Metabolic and Bariatric Surgery Accreditation and Quality Improvement Program (MBSAQIP) in 2022. White Plains Hospital has received full accreditation for its breast cancer program four times from the National Accreditation Program for Breast Centers (NAPBC) and The American College of Surgeons National Surgical Quality Improvement Program (ACS NSQIP®) granted White Plains Hospital with two meritorious outcomes for surgical patient care in 2022. Also in 2022, the Hospital received the Outstanding Patient Experience Award from Healthgrades® for the 7th time, and in 2022 became the only Hospital in Westchester to be awarded with an A Safety Grade from the Leapfrog Group for the 8th time.
https://www.wphospital.org/about/affiliations-accreditations-awards