Retired from the New York Police Department for 25 years, Christopher Letizia says he has "always been very athletic. I've jogged, ran some races, did CrossFit."

All of that ended, however, when he found out he had atrial fibrillation (AFib). "It destroyed my lifestyle," he attests. "It was like putting a dog on a leash in a huge yard."
AFib is a quivering or irregular heartbeat (arrhythmia) that can lead to blood clots, stroke, heart failure and other heart-related complications. At least 2.7 million Americans are living with AFib, according to the American Heart Association.
True to his nature, Mr. Letizia was exercising when he first noticed some telltale symptoms. "I started having dizzy spells", but ignored them, at least at first. Eventually he saw a cardiologist for a stress test, whose results were normal and did not explain his symptoms. He then purchased a smart watch that showed rapid heart rates of up to 180 beats per minutes at rest.
Mr. Letizia's wife Janet was at the same time undergoing treatment for breast cancer at the White Plains Hospital Center for Cancer Care under the care of Drs. Preya Ananthakrishnan and Karen Green. Speaking with Dr. Green about his own situation during one of his wife's sessions, she encouraged him to get in contact with Dr. James Peacock, a member of White Plains Hospital's Cardiac Electrophysiology Program.
Dr. Peacock started with medication management and testing for a sleep condition called sleep apnea. But even after that treatment, Mr. Letizia was still experiencing AFib episodes despite a medication regimen. Mr. Letizia ultimately underwent an atrial fibrillation ablation in August 2020.
For that procedure, a doctor inserts a catheter into a blood vessel in the groin and threads it up to the heart. A tip on the catheter then emits high-frequency electrical energy to destroy the abnormal tissue, resulting in a scar. That scar tissue cannot initiate the electrical signal necessary to cause the arrhythmia, thereby returning the heart to a normal rhythm.
"Atrial fibrillation is the most commonly treated heart rhythm abnormality in the U.S.," Dr. Peacock notes. "It can have a profound effect on a patient's quality of life. Luckily, there are safe and effective treatments available for atrial fibrillation that can help patients return to their normal lives. We are excited to have cutting-edge technologies to treat AFib at White Plains Hospital while continuing to take a holistic approach to patient care."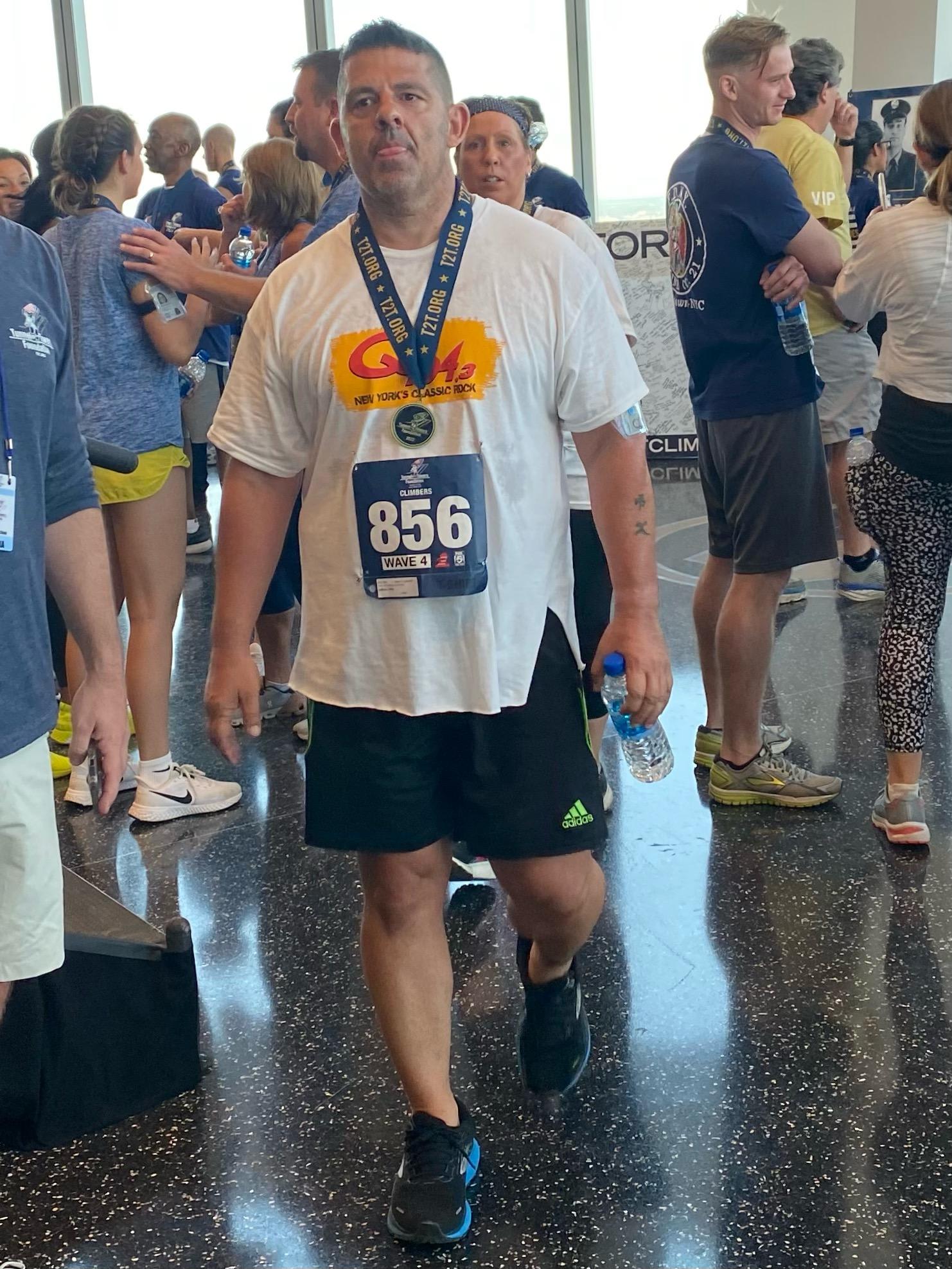 Following the procedure, Mr. Letizia was anxious to get back to his active lifestyle. "Some doctors say (to AFib patients) not to do excessive exercise, but Dr. Peacock said that if it makes you happy and you balance it out with other things" ­– including a proper diet and being weaned off of blood-thinning medications used after the procedure to avoid blood clots – "he's not concerned. If it (AFib) comes back, we'll deal with it." He is now approaching the second anniversary of the procedure without recurrence of atrial fibrillation.
"He is now doing very well," Dr. Peacock says. "He is regaining his active lifestyle and recently completed the tower run at One World Observatory while maintaining a normal rhythm." That run, at One World Trade Center, involves scaling 2,226 steps spanning 102 floors.
"He's still a young person," which shows that heart problems like AFib do not only affect the older population, Dr. Peacock says. "His heart was in good shape outside of his electrical problem"
"Dr. Peacock saved my life," Mr. Letizia declares. And Janet is "doing great," he says. "She's now four years in remission.
"It was a pretty dark time," he adds, "but I can't say enough about the care we both received at White Plains Hospital."
Dr. James Peacock is a Cardiac Electrophysiologist at White Plains Hospital Physician Associates in White Plains. For an appointment, call 914-849-2690.